Couch Cleaning Services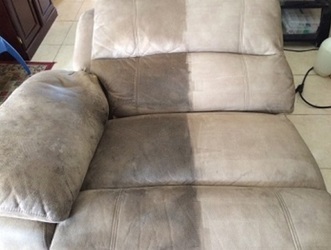 Couches, love seats, sofas and other upholstered furniture can really get dirty. Most people forget about their upholstered furniture when they think about carpet cleaning. People will get their carpets cleaned on average about once a year but almost never get their couches cleaned. They tend to be the forgotten item that never gets cleaned. Couches, love seats, sofas etc can become very dirty with dropped crumbs from eating on the couch, spills, pet dander, dust and other contaminants can literally make your upholstered furniture a breeding ground for germs and other stains. Let Xcel Carpet Cleaning perform your couch cleaning today!
Cleaning Upholstery
Upholstery can get just as dirty, stained and soiled as your carpets can. Regular upholstery cleaning can keep your furniture clean, bright and smelling great. Between food crumbs dropping into your upholstery and spills staining your cushions, upholstered furniture needs regular cleaning. We can even do carpet and upholstery cleaning in RV's, boats and motor homes!
Furniture Cleaning
Our furniture cleaning services are environmentally safe and provide a fresh and clean sitting surface that will extend the life of your upholstered furniture. We can remove dirt, grime, grease, food and drink stains and much more. Ground in dirt is no match for our professional couch cleaning services.
Carpet and Upholstery Cleaning
Xcel Carpet Cleaning can provide package deals when it comes to carpet cleaning services and upholstery cleaning. We can provide this important value added service to your order for a discounted price when you bundle services. Xcel Carpet Cleaning is offering 35% off of your upholstery cleaning when you have at least 3 rooms of carpet cleaned! Just order carpet cleaning for your home and add on couch cleaning services and see how much money you can save!
Call today for an estimate on couch cleaning services! 248-770-3040